Factoring
Factoring Management System
Factoring. The new "trend" in financing small, medium and large companies.
Factoring is a financial transaction to finance small and medium size companies. This is a complete financial package of services that combines working capital financing, credit risk protection, administrative and accounting services.
Factoring is a transaction in which businesses sell their receivables or invoices to a third party, a commercial financial company, also known as a "factor." This is done in such a way that the business can receive cash in a timely manner.
Companies of different size use factoring as a way to increase their cash flows. Companies use the money generated by Factoring to invest in their own businesses and develop at a faster rate.
Ultimate Factoring. A software solution tailored to the individual business features and requirements of Your company.
Ultimate Factoring is a specialized financial platform that helps automate the activity of factoring companies. For the purpose of serving individual business needs, Ultimate Factoring's structural organization is divided into three levels that provide the necessary flexibility for the platform:
Front office

– provides an opportunity for quick customer service through an optimized user interface;

Back office

– management of business processes in the factoring company - processing of accounting operations, management of payments and others;

Admin panel

– allows easy administration, system configuration and setup, evening treatments.
Ultimate Factoring - The golden standard for servicing factoring deals
The software solution Ultimate Factoring fully automates business processes in your factoring company, while enhancing service quality, creating better opportunities and prospects.
Factoring can be customized and managed to provide the necessary capital when your company needs it. It provides a quick boost to your cash flow.
Ultimate Factoring is an information system for complete automation of factoring companies. The system provides informed decision-making, risk mitigation, automation of day-to-day operations and helps increase the profitability and competitiveness of the factoring company. Ultimate Factoring is organized on three levels: Front office - fast customer service through an optimized user interface; Back office - Business Process Management in the Factoring Company and Admin Panel - Administration and System Setup, Evening Treatments.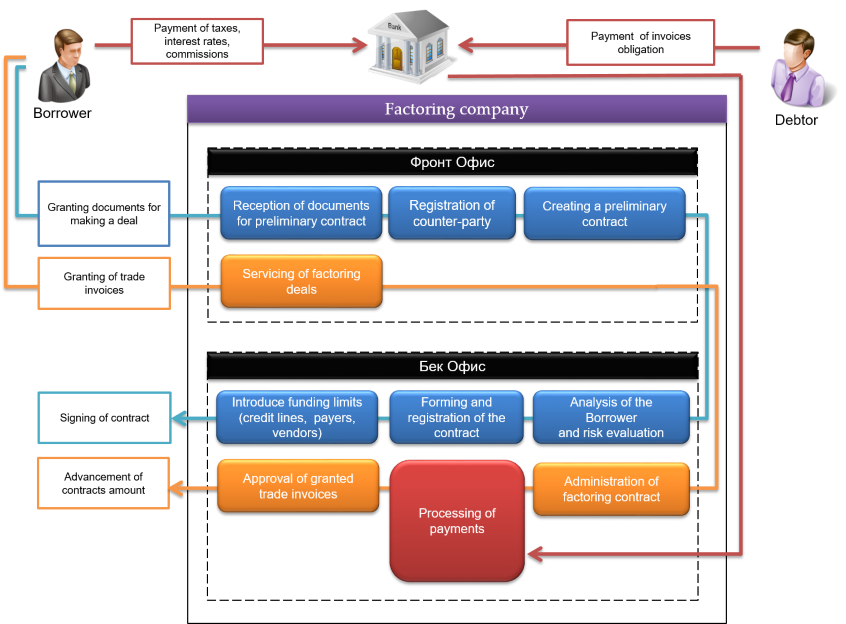 Factoring Deals

Managing and servicing various types of factoring transactions;
Serving and managing the entire process from creating a factoring contract to its closure;
Enter individual funding limits at contract level, credit line or group of invoices;
Automated payment processing;
Structured counter-party information;
Automated processes for interest charging, service fees and commissions;
Issuance of electronic invoices;
Advanced reference system.

Contract Management

Automatic control when the funding limit is exceeded;
Risk management - automatic risk level calculation;
Additional level of control on actions based on set user access rights;
Reporting to external systems and institutions;
Storing documents at the system level (contract, invoice, credit line, etc.) in a centralized electronic archive;
Automatic counter-party notifications (e-mail, SMS);
Validation and control of input data.

Actions with Factoring Contracts

Creating a factoring preliminary contract;
Approval of factoring preliminary contract;
Upload documents to a factoring agreement;
Enter forecast data under the factoring agreement;
Adding related parties - joint debtors;
Introduce funding limits;
Add or create new credit lines under contract;
Set up pre-created interest plans;
Contract service (automatic and manual);
Define charges.

Types of Factoring Deals

Ultimate Factoring covers the entire process of servicing the following types of factoring transactions:

Internal Factoring with / without regression;
Export Factoring with / without regression;
Import Factoring with / without regression;
Reverse Factoring.

Reports

Meticulously developed reports system;
Reports (Portfolio, Individual, Export to Word and Excel);
Reporting to tax authorities;
Reports for creditors and investors.

Accounting

Module "Accounting" is an integral part of

Ultimate Factoring

;
The accounting operations related to servicing factoring transactions are taken automatically, according to a predefined methodology, according to the requirements of the factoring company;
Provisions, amortization of revenue;
VAT Logs, Noncurrent assets, Logistics and more.

Risk Management

Defining tolerable levels of risk;
Automated mechanisms to monitor the level of risk based on historical data;
Automated risk level determination in accordance to input parameters;
Automated or manual validation of information;
Notification of drastic changes in the level of risk;
Control and notification when a predefined level of risk is reached;
Monitoring and control of the operations performed;
Full portfolio monitoring and information analysis.

User Management

Ultimate.NET Factoring has a highly developed access rights management system;
Access rights can be granted to:
-Menus and sub-menus
-Processes
-Objects
Every access right can be granted at user level or at group level.

Links with External Systems

Ultimate Factoring

has a built-in integration layer on the basis of which the system can be easily integrated with external systems, regardless of the type of integration interface (file transfer, database-level connection, web service, queue, etc.);
Transfer of data to and from a bank;
Preparation of data for export to a printing or courier company;
Automatic invoicing by vendors;
Links with tax authorities (VAT logs and other).

Automatic Notifications

Automated communication mechanism between participants in the factoring deal;
Sending notification letters to suppliers and payers:
-Incoming period
-Arrears
-Charged fees
-Payments due
-Processed payments
Sending a notification SMS.

Online Factoring – User Information Portal

Opportunity to view, download and print all types of documents - contract, repayment plan, electronic invoice, notification letters;
Online payments of obligations set by electronic invoice;
Timely information about debts and unpaid invoices;
Faster receipt of documents;
Permanent access to all information about the factoring agreement and its adjacent invoices;
Manage notification when receiving a new document or electronic invoice;
Privacy by encrypted HTTPS connection;
Secure document storage;
Receiving individual offers and offers from the factoring company;
Contact details of the personal manager and contact with them.
Ultimate Factoring's core advantages are:
Modular structure allowing easy upgrade with new modules and functionalities;
Servicing the full business process - from the request for a contract to its end;
Complete automation of business processes in the company;
Ability to register contracts in currency;
Risk control and risk analysis system;
A highly developed reporting system with export capability in Excel;
Built-in integration with iRhive and electronic channels (eChannels).